A boardrider is someone who enjoys the sport of going in the ocean and riding waves.
The concept of a Central Florida Boardriders Club has been around for a couple of decades now, we've just never called it anything. Every year there are a few great events up and down our coast that bring tons of us together. We pitch our tents for the weekend and enjoy catching up while the commentators call heats.
Some of you avoid those events like the plague and just enjoy seeing the same 15 familiar faces at the end of your street when you surf. If the sandbar at your spot is good, "great" if it's not… "oh, well"… it beats driving around.
Many of you wake up before sunrise, load up the boards and beeline it for the ocean in hopes of getting a fun hour of water time.
Then there are the summer months when a bunch of us jump ship and head to Central America. Half of the time you're seeing people you know from home and then there are the familiar friends we've made in those countries as well.
Whether you pay attention to it our not, your tribe is a bunch of NOAA buoy watching addicts who ride just about any type of board that helps them catch the crumbly surf we get.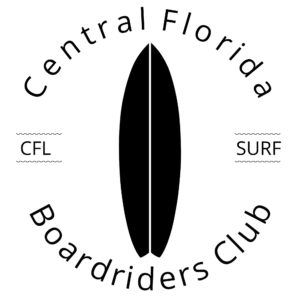 You look for these guys and gals at parties, you call them at 5am to see if they've checked it and especially after a good session to let them know when they've missed out!
CFLsurf has been around for a while and it's a great surf hub for the community. Our site was created (back in 1997) to aggregate all of the relevant information to help you plan if a trip to the beach was worth while. Some of you have been using the site for close to 20 years. We're discovering that through years of posting pictures and going to events, there's a core surf community in Florida. As we post this, there were about 15,000 boardriders who checked the site today in the Central Florida corridor, about 3,000 in South Florida and about 2,500 in North Florida.
We been thinking about the concept of a board riders club since 2005, when we starting taking trips to Australia and spending extended amounts of time in their surf culture. One amazing aspect in Australia is the Boardirders Club in every city. The ages in the clubs range from about 5 to 75 and every type of board is welcome.
This year, we're re-directing more of the funds we generate from our advertising into building a community hub for Boardriders. To start we've printed some basic Surf Tees. In the near future we'll begin planning some events and supporting the local surf contest scene. Eventually we would like to work towards having a physical location on the oceanfront to surf and train as a community. Our dream location would be to obtain something like the Officers Club facility at PAFB and offer amenities to the Central Florida area. We mention that location as an example of what we mean by an oceanfront facility. Pool area for the family, some food services, a covered meeting/training space and deck for photography. It sounds ambitious, but there are existing facilities like this in other surf communities. Some regions share lifeguard training clubs with the board riders clubs as an example.
This year we might plan a few surf day events. We'll plan it around fun weekend surf, let you know a location and post up with the cameras on the beach. We might do one surf day event with a BBQ when the weather gets nice.