On the Road in Panama
by Michael Cruden – June 2000
After surfing for nearly six years, I have learned a few things about Florida. One of these things is that you usually don't want to be anywhere near here for the months of May, June and July. Since I had been living in Orlando for nearly a year, I was anxious to get out of this state for a while. So me and my roommate planned our trip out. We decided on Panama because it gets the same summer south swells that Costa Rica gets, and both of us had already gone to Costa three times. We got another friend and veteran of Costa, Kieth to bring the count to three. John hassled with a travel agent for quite some time and we got tickets for $260. We were ready to go. I brought $400 cash with me, hoping that would be enough for the 17 day trip.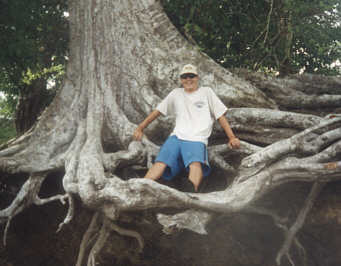 Your author, Mike, waiting for the surf to show up.
Day 1-2
In order to get the price, Miami was our departure site. Unfortunately, we were forced to park in long term parking for 17 days ($170) so we lost all the money we saved on the ticket. As soon as we walked into the airport, one of the baggage handlers asks us for $20 to 'take care of our bags'. Fearing for the safety of our boards we reluctantly gave him the money. When we tried to check our bags they still wanted to charge us, we pleaded our case for about thirty minutes, then the guy we bribed came back and helped us out. After that, we were off to El Salvador, then Costa Rica, finally arriving in Panama early in the morning.
The wonders of red-eye flights. I got to spend about six hours watching Telemundo in the airport with a few federales and security guards, since we didn't want to get a hotel for a few hours. When morning neared, we took a taxi to the bus station and got a ride to Rio Mar, our first view of the ocean on the trip. To our great disappointment the waves were not all that fun. We paddled out any ways and got cut up good on the abundant and incredibly sharp rocks that are all over the place. The waves weren't worth the effort and we gave up after a few hours. We hiked along the beach, where the scenery nearly made up for the lack of surf. Almost!
Day 3
We woke up and got the bus to Las Tablas, then another one to Venado the site of a recent WQS contest about two weeks prior. The beach is a bay in between two cliffs that wrap around the area. The waves come in and break really far for a beach break. They were kind of weak, but there was not much swell to be had anywhere we figured. We paddled out and got some fun chest high waves, but nothing special. We rented a shack for $11 a night that was so disgusting (standing water in the bathroom), that I pitched my tent and slept outside. Meals are $2 here and you don't really have a choice on what you get, but its decent enough.
Late that evening we gathered some wood and began to start a fire where there was a little bit of a fire pit already near the shack. After a few seconds, the fire exploded forcefully right in our faces. We don't have any idea what happened, but the explosion was quite powerful and our ears were ringing for hours. Not to mention it scared the hell out of us, it almost seemed like it was booby trapped.
Day 4
I was thought the waves were picking up last night, but I was wrong. Surfed some more 2-3 footers and didn't find it too interesting. However, we met a guy named Christian and he gave us the lowdown on the country and pretty much helped us decide to go to Santa Catalina, about 8 hours away by bus. We hiked around 5-6 miles down the beach to the next bay. It was huge, with no appreciable surf spots unfortunately. We still figured that even though this one wasn't any good, that one or two more down, and there would have to be something.
Later, when the tide got high again, we paddled out. The waves picked up and we had a blast. The whole time we were seeing millions of tiny jellyfish, all different types floating around. They didn't sting, so we paid little attention to them. Unfortunately, I found the biggest, meanest jellyfish out there and ran right into it, getting stung like hell in the process.
Day 5
Woke up really early and caught the bus out of Venado. All in all we got to Catalina after what turned out to be 12 hours of traveling. We got to Catalina in the evening and saw a few waves roll in, but not too many. We has basically two choices in town. There is Cabinas Rollos in the middle of town for $7-8 a night. Then there is Casablanca, which is owned by Ricardo who is somewhat of local hero. His prices are much steeper, but you are staying right in front of the point with a great view. We were first offered rooms for anywhere from $115-$15 night per person, but we got them to let us stay there for $10 by paying in advance for several days. I think they figured out quickly that we didn't have a lot a money to spend.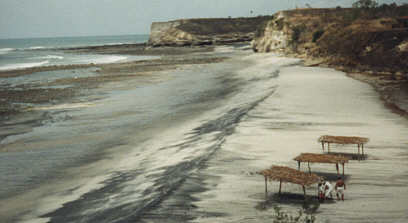 Hey Mike, are these the $115 a night rooms or the $15 a night rooms?
Day 6
Our first day in Catalina the waves were pretty fun for our first session. It is a real boxy wave, it stands up really quickly when it hits the shelf. It definitely took a little while getting used to it, coming from all the weak surf we usually deal with here. Unfortunately it was inconsistent at best and quite a few people were out as well. This is probably the only crowded wave in Panama, and we were on it.
As the tide dropped, the wave became quite treacherous. With a tidal variation of around 18 feet, the tide can go down quickly. The rocks that could not be seen at high tide became very exposed with hours to go until low tide. Getting in and out at these times can be quite tricky. As the tide dropped the waves did as well. We knocked down some coconuts to eat for lunch while we waited for the tide to come back in. It rained pretty hard, and the wind went offshore for the evening session. The waves were better and it was less crowded, I felt a lot better out there this time.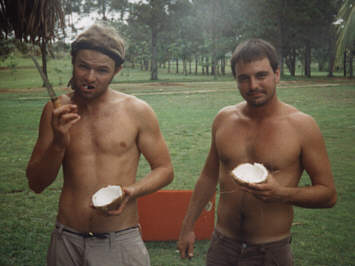 John and Kieth enjoy good food at VERY affordable prices!
Day 7
By now we were getting into the rhythm of Panama and getting used to the huge tidal changes. I surfed in the AM until it just got to be too crowded for me and I went in. It just turned into a free for all when the Venezuelans and Brazilians paddled out from the 'other' surf camp down the way a bit. I can't imagine what it would be like to surf in a country where everyone drops in on each other for the fun of it. Sitting in the pit was the wrong place when these kooks were out. Not only would they paddle for your wave, but you ran a good risk of having them fall on your head as well if you did take off.
We walked into town to eat lunch for $2. Typical meal, fried fish, rice, beans, cole slaw. But for that price, you can't complain. We ended up eating lunch and dinner there almost everyday since it was the only restaurant in town besides the one at the surf camp we stayed at. The only difference is that meals were $35 for 3 meals a day at the surf camp (for the same food, basically).
We got a little surfing in the evening, but it was a little too choppy for most of the waves. As the tides were changing, this was the last day we would get to surf Catalina twice. We met some guys from Santa Barbara who were staying there in the expensive cabin with A/C. Turns out they were paying something like $140-150 a day for room and meals. I couldn't believe it. Being that the rumored swell was not showing yet, they were not too pleased either.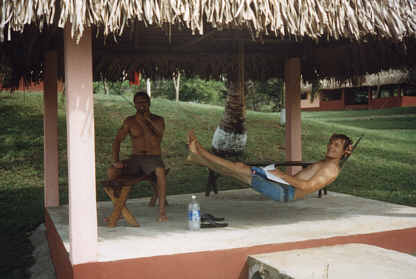 Air conditioned suit for three.
Day 8
Paddled out kind of early and got barreled and came out without getting my hair wet. I though this was pretty cool until I hit bottom on the next wave and lost a nice chunk of skin on my hip. I still surfed for a few hours even though. I was on land by 11 and had a LONG day ahead of me. No more afternoon sessions to look forward to. We hiked to a break called Playa Brava in the afternoon. The waves were huge there, but the break presented a few problems. First, there is no plausible place to paddle out at, second, there didn't seem to be a lineup or a set place for the waves to break, third, it just looked mean out there. I decided to stick with Catalina for the time being.
Day 9
Pretty much the same as the other days, with one notable exception. I was laying around in the hammock when two truckloads of Policia rolled up behind me and unloaded. I didn't even know until I saw fifteen police walking by me and around the compound like they were looking for something. I was hoping it wasn't me. After a little bit, they all walked down on the beach and were taking pictures of each other and hanging out on the rocks. I didn't understand, so I just ignored them the best I could until they left.
Day 10-16
I can pretty much sum up all these days at once. I did not have enough money to leave and get to another surfing beach without running out, so we were stuck here. Each day we had to surf later and later in the day. It progressively got worse and worse as the wind would already be howling onshore some days by the time you could paddle out. The waves stayed in about the head high, occasional bigger sets most of the time. We ended up meeting and hanging out with some guys Tim and Dean from San Diego and some other older guys from Santa Barbara. We also got to know a bunch of the locals and a Peace Core volunteer named Darren. Our nights were filled with in a drunken splendor as we got to watch the NBA playoffs on DirecTV.
Eventually we were known as Team Florida and we called the old guys the Santa Barbarians. John picked up the nickname 'Rasta Blanco' which literally means the white rasta. We had a blast even though it was a windy mess many of the last days. On the evening of Day 16, the wind died and a new swell was just starting to show. We got a really good last session in some solid six foot surf, this really lifted our spirits for the trip home. I don't know what I would have done without it.
When I was getting out, one of the local surfers was on the beach looking quite upset. I asked him what was wrong and he showed me his newly buckled Al Merrick. I offered to sell him my Ace 6'3″ for $40. Later he came back, along with Darren. As it turned out, Darren bought my board for $38 and 3/4 of a liter of Bacardi. This was all he had on him, but I figured he was a nice kid and he was volunteering 2 years of his life to be in the Peace Core, so I hooked him up. It turned out the very same money he gave me would eventually get us all out of the country!
That night Ricardo the owner put on a slide show that just blew our minds. Waves that just looked unbelievably good, picture after picture. It also had a lot of outer island photos on it, which we never got to see, mainly because of our budget restrictions. We hooted and hollered at the end of it and John gave it a standing ovation. He had a lot of good pictures, if you ever stay there, ask about it.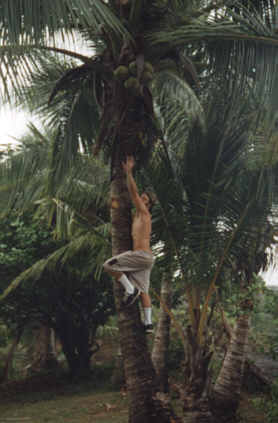 We developed very high expectations for dinner each night.
Day 17
We woke early and began our trek back to Panama City in the morning and got there about 8 hours later. The buses work surprisingly well for such a seemingly chaotic schedule they run. We walked around Panama City for a while looking for pants to go to the casino that night. John and Kieth wanted to win some money, but I wanted to go check out the historic district and spend my last $20 on some decent souvenirs. John said "I don't want to go there, that is where they'll rip you off." So instead we went to the Casino. I lost my $15 rather quickly, while John and Kieth gambled on. I got free drinks all night, so I wasn't complaining. In the end they both lost all their money, including the money we needed for the taxi ride to Hotel California where we were staying. I luckily had tucked $5 in my pocket before entering the casino. That got us home. I had also saved $27 in the hotel. That was twenty for the departure tax and seven for my share of the taxi to the airport. Well, they had no money, so I paid the $20 to get to the airport. We luckily could charge the departure tax, so we managed depart from Panama in one piece!